Rice Dean of Graduate and Postdoctoral Studies Seiichi Matsuda has been named the recipient of the 2022 Debra W. Stewart Award for Outstanding Leadership in Graduate Education, the top honor bestowed by the Council of Graduate Schools (CGS).
Given annually to a single recipient who exemplifies the leadership qualities of Stewart, the council's fifth president, the award is bestowed to those "with a strong reputation for ethics and integrity, a history of active participation in the graduate community, and a record of strategic vision and actions resulting in meaningful impacts" in graduate education, according to the organization.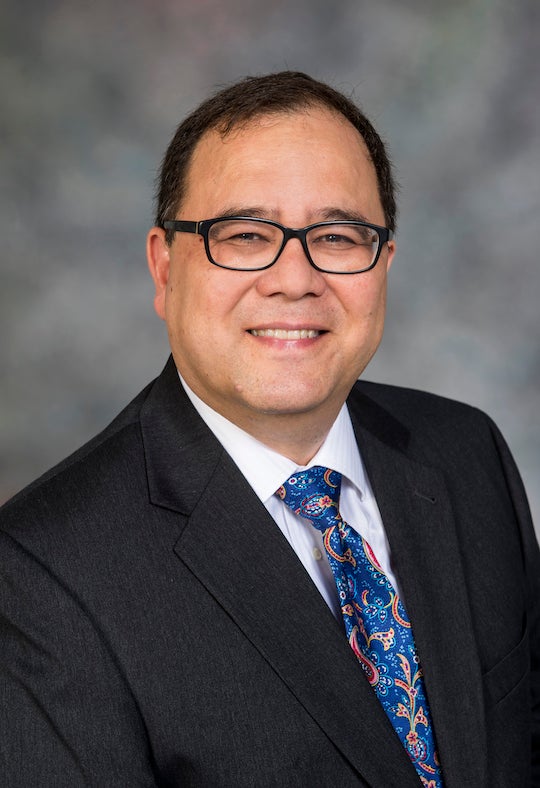 The award comes with a $4,000 prize to support further innovation and new initiatives within Rice's graduate school.
"We're all extremely proud of Dean Matsuda for receiving this well-deserved honor," said Rice President Reginald DesRoches. "Since I first arrived at Rice in 2017, I've witnessed firsthand Seiichi's commitment to creating a world-class educational experience for every one of our thousands of graduate and postdoctoral scholars. He is truly one of Rice's finest — I look forward to working with him and his team in the years ahead to take our graduate programs to even greater heights."
CGS, the national voice for the graduate dean community for over 60 years, counts nearly 500 universities in the U.S. and Canada within its ranks. Member institutions award approximately 87% of all U.S. doctoral degrees and a majority of U.S. master's degrees each year.
Matsuda earned his bachelor's degree from Bethel College and a Ph.D. from Harvard University before joining Rice's faculty in 1995. The E. Dell Butcher Professor of Chemistry and a recipient of Rice's prestigious George R. Brown Award for Superior Teaching, Matsuda chaired the university's Department of Chemistry from 2007-2014 until he was named dean of graduate and postdoctoral studies in 2014. His research focuses on terpenoids, the most numerous and structurally diverse group of small molecules synthesized by plants.

During his tenure as dean, Matsuda has worked to create a team culture where staff are empowered to assist and mentor graduate students with an aim toward building community and finding innovative solutions to ensure student success. Under Matsuda's leadership, applications to Rice's graduate programs have doubled while the number of students from underrepresented minority groups has tripled.
He's also worked to establish minimum stipend levels, created a robust fellowship coaching program, launched a new teaching assistant funding source and distribution model, and has pushed for clearer graduate program guidelines across departments and disciplines. An active participant in national efforts to improve graduate education, Matsuda served on the executive council of the Association of Graduate Schools within the Association of American Universities from 2017-2020.
"I feel like I've got the best job in the world," said Matsuda in remarks at the CGS award ceremony in San Francisco Dec. 8. "To lead programs that are associated with guiding people through graduate degrees is just a great thing to do."
"I'm deeply grateful to all of the grad deans and the grad dean staff — not just in my office, and not just in this room, but around the country," Matsuda said. "It's just awesome to be able to work in an area in which I feel like all of us are on the same team."
"To see Seiichi's track record of excellence recognized by the Council of Graduate Schools is just tremendous," said Provost Amy Dittmar. "His constant, thoughtful focus on supporting our incredible faculty, students and staff exemplifies everything you'd hope to see from a leader in higher education. It's been an absolute pleasure to work with Seiichi, and the future of graduate studies at Rice is extremely bright thanks in no small part to his vision and tireless efforts."
Julie Coonrod, chair of CGS' board of directors and dean of graduate studies at the University of New Mexico, heralded Matsuda's contributions to graduate education that led to his selection.
"Dean Matsuda is a passionate advocate for graduate students and the CGS board of directors is pleased to recognize his leadership and service to the graduate education community," Coonrod said. "His innovative and creative solutions for improving access to graduate education is inspiring and we are proud of the work he is doing."