Two Rice University graduate students are among the inaugural recipients of the Quad Fellowship, a multinational scholarship program formed to build ties among the next generation of scientists and technologists and jointly administered by the governments of the United States, Australia, India and Japan.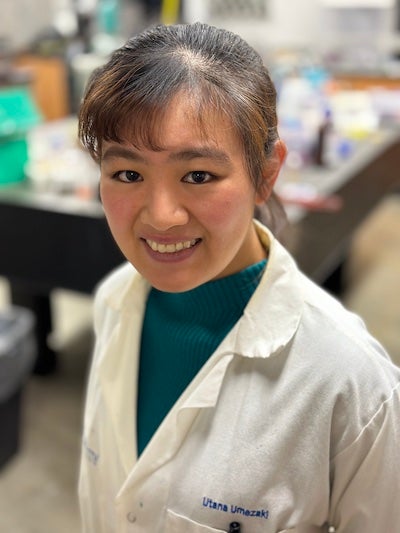 Utana Umezaki, a fourth-year graduate student in the lab of chemist Angel Martí, and Sathvik Ajay Iyengar, a third-year graduate student in lab of materials scientist Pulickel Ajayan, are among 100 Quad Fellows in the 2023 class representing 69 institutions in the four participating countries.
The fellowships were announced by U.S. Secretary of Commerce Gina Raimondo today.
Each Quad Fellow receives a one-time award of $50,000 that can be used for tuition, research, fees, books, room and board and related academic expenses. All are eligible to apply for separate funding up to $25,000 to cover costs related to completing graduate-level studies.
As part of the program, the students will visit each of the Quad countries to discuss global problems and challenges and will have networking, internship and employment opportunities within the Quad framework.
Umezaki researches proteins specifically related to the aggregation of amyloid beta, which is implicated in Alzheimer's disease, a focus of the Martí lab.
"We're using photoluminescent molecules to find binding sites in amyloid beta and determining how tightly they bind to that position," she said. "Then we can design the ideal peptide targeting drugs."
She said her grandmother's struggle with dementia prompted her interest in finding a treatment for Alzheimer's. "The last time I saw her, she couldn't recognize me," Umezaki said. "That was so sad, and I found there was no efficient treatment for dementia and Alzheimer's disease, so I became curious."
The Osaka native first came to Rice in 2018 for the four-week TOMODACHI-STEM Women's Leadership and Research Program for undergraduates from Japan. She spent that month in Martí's lab.
"I really liked the research and also that his studies involve a lot of spectroscopy," Umezaki said. "It was a good match with my interests, and so I decided to come back to Rice as a grad student."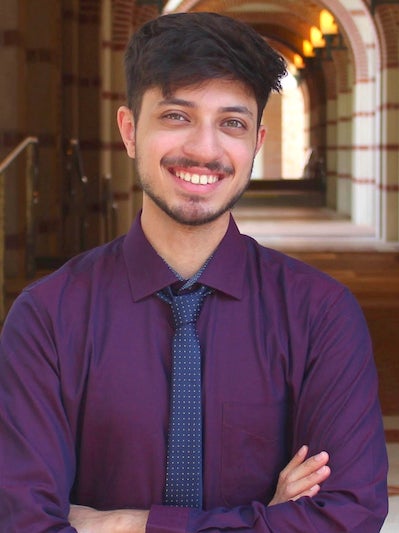 Umezaki and Iyengar ran a gauntlet of interviews to land among the 25 fellows from each country, chosen from 3,200 applicants.
"I received a phone call and was speechless to hear the White House was personally involved," Iyengar said.
"The Quad Fellowship selection process was arduous — three rounds of selection, including academic and final interviews. Interviewing with people who served at the Pentagon and with science advisers was a humbling experience," he said.
Iyengar's research focuses on 2D materials, the physics and chemistry of their atom-thick arrangements and potential applications in new device architectures. He intends to use the fellowship to further his research in applying low-dimensional materials in areas including bioelectronics, neuromorphic computing and other emerging computing architectures.
"I have been studying Japanese for the past two and a half years through the Center for Language and Intercultural Communication at Rice, along with my Ph.D.," he said. "From preparing presentations to recording lab intro videos in Japanese, Rice has been a wonderful platform for learning new skills. These skills for effectively communicating with diverse groups probably helped me secure the fellowship.
"One of its most beautiful aspects is that it is never a one-man show," Iyengar said. "Without the support of my advisers, family and friends, I would not be where I am today."
Schmidt Futures, a philanthropic organization based in New York City, operates the program announced in 2021 with a nongovernmental task force of academic, foreign policy and private sector leaders from each Quad country. It also sponsored the Schmidt Science Fellowship awarded to Rice graduate Natsumi Komatsu last year.
To become a Quad Fellow, a student must be at least 18 years old, a citizen or legal permanent resident of one of the Quad countries, hold a bachelor's degree or its equivalent in a STEM field and have demonstrated "superior academic achievement."
For more about the program, visit the White House website for the Quad discussion and fellowship formulation: https://www.whitehouse.gov/briefing-room/statements-releases/2022/05/23/fact-sheet-quad-leaders-tokyo-summit-2022/.