The line for cake wiggled its way through the live oaks that line the Graduate Commons outside Valhalla as graduate students picked up a sweet end-of-semester treat during the April 25 GRADitude Fest and Cake Walk.
Lynnora Grant, a second-year grad student in materials science, carried off her box of cake — coconut cream — to share with friends at a nearby picnic table.
"The cake is really good," she said, offering colossal slices all around.
For the first time, the Office of Graduate and Postdoctoral Studies (GPS) expanded its semiannual Cake Walk celebration — which rewards grad students who've won an award, fellowship or prize in the past semester with a giant gourmet cake of their choosing — into a "GRADitude Week" filled with activities meant to encourage and recognize the long hours and hard work of Rice's 3,000 graduate students.
"I think myself and a lot of other students who got awards (this year) probably just, like, get the award and then go back to work and forget about it," said Grant, who won a prestigious Ford Foundation Fellowship this year. "It's nice to be acknowledged and recognized like this."
In addition to handing out cakes, GPS hired two foods trucks to feed the crowd outside Vahalla. Kate Cross, associate dean of graduate and postdoctoral studies, shook hands and greeted students as they hauled off their prize desserts and later took the stage to announce the winners of the first Musical Thesis contest.
The contest, one of several offered during GRADitude Week, encouraged grad students to get creative with their research by setting it to music. Students could also write a haiku about their thesis or explain it in three emojis and 240 characters on Twitter using the hashtags #3EmojiThesis and #RiceGRADitude.
Kim Gonzalez, director of student advancement and career development in GPS, offered her own example for the Musical Thesis. Set to Justin Timberlake's "SexyBack," her modified melody referenced a genetic suppressor screen that revealed a pex3 mutant gene alleviated a pex6 deficiency in Arabidopsis, a small flowering plant that was the first to have its entire genome sequenced: "I'm bringing pex3 back / To make up for what pex6-1 lacks."
Entries for the #3EmojiThesis made wide use of the newest science-themed emojis, from microscopes to amoebas, but also included emojis for a chicken, a battery and the recycling symbol.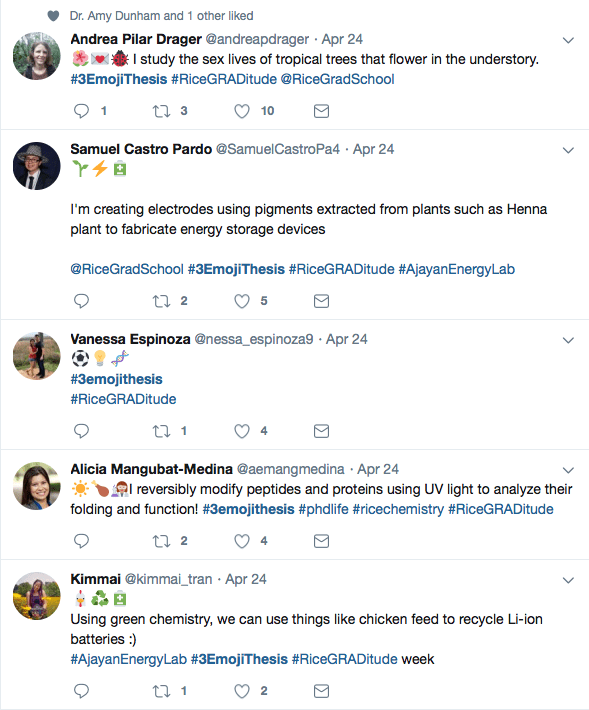 "Using green chemistry, we can use things like chicken feed to recycle (lithium)-ion batteries," tweeted Kimmai Tran, a Ph.D. candidate in materials science and nanoengineering, explaining that particular trio.
And as if the Cake Walk wasn't enough enticement, Cross encouraged everyone who entered the contests to pick up a congratulatory cupcake in the GPS office at Allen Center. The influx of contest winners picking up their prizes (books, blankets and diploma frames) and the entrants enjoying cupcakes attested to the success of the weeklong GRADitude program. It also brought a celebratory mood to an office that typically handles more businesslike affairs.
"I really enjoyed people coming in," Cross said. "They came in and would be picking out their books and then they'd get really excited explaining their emojis. It's just fun to have people in the office."