GRADitude Week
The Office of Graduate and Postdoctoral Studies annually celebrates the hard work and dedication of our graduate students during our GRADitude Week! Rice University graduate students are some of the most brilliant, talented and determined people on this planet. We're excited to give back to our student community. There is no cost to grad students to participate.
While dates for upcoming events have not yet been announced, below is a sampling of events from past GRADitude Weeks. We hope you get excited to join us!
---
Nominate someone to be honored!
We know you're doing some incredible things in the lab (and stacks, and library!) but we want to honor your efforts outside of the lab. Do you know someone who's doing some great work - not just for Rice, but for the student community, the greater Houston area - and the world? Let us know about it! Are you mentoring the young scientists of tomorrow? Do you know someone who started a campaign to combat an issue in our community? Maybe you've been traveling the world as part of your work at Rice - meeting new people and expanding worldviews. We want to hear about it! Send nominations here.

Monday: Seuss Your Science
All day Nov. 18, on a World Wide Web near you.
We want to see you get creative with your research, course project, prospectus - whatever you're working on at Rice, make it rhyme and share it on social with the hashtag #seussyourscience and tag @RiceGradSchool (Twitter Instagram and Facebook) for the chance to earn prizes from the GPS Office!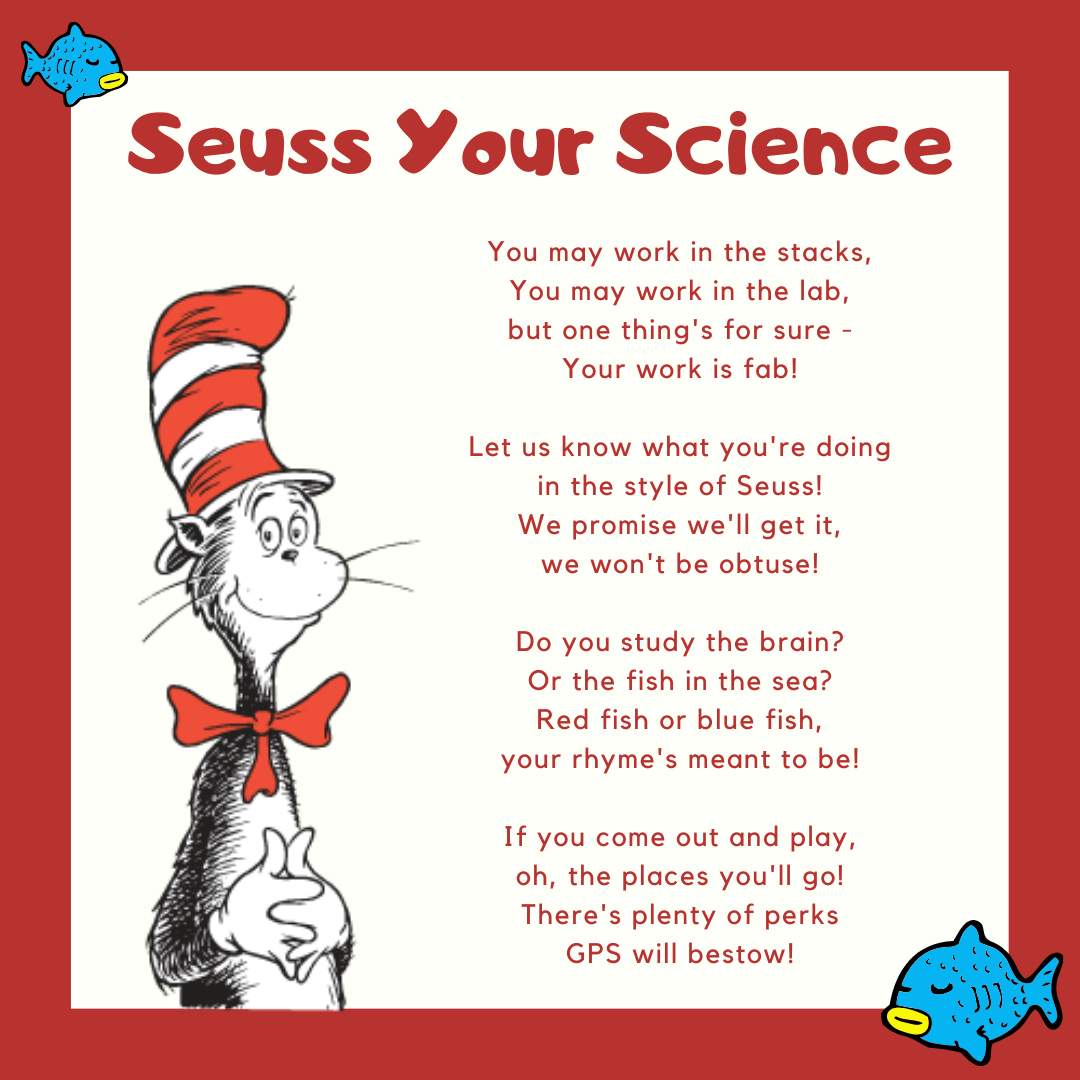 TACO-bout it Tuesday
Nov. 19, 2 - 4 p.m., 323 Allen Center
Want a FREE taco from Torchy's? It's your moment to shine - TACO-bout why you chose Rice for grad school or give a shoutout to someone on campus. Use the hashtag #GRADitudeweek and tag @RiceGradSchool (Twitter Instagram and Facebook). Then head to the GPS Office in 323 Allen Center to grab your tasty taco reward! There are only 100 tacos, so get tweeting! (P.S. - there will be queso.)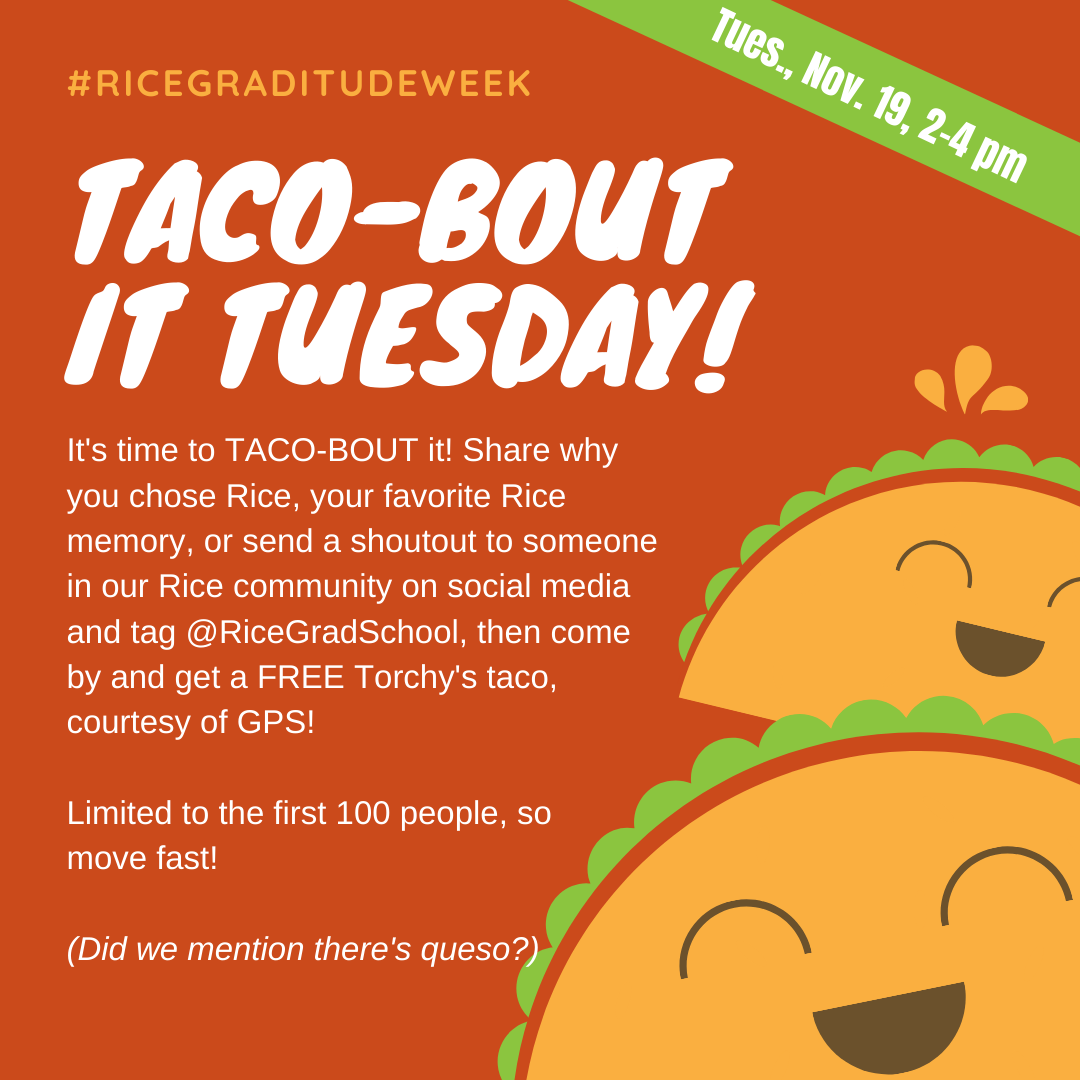 Tuesday: Networking for Results
Nov. 19, 3 p.m., Keck 100
The ability to communicate clearly about your research will be critical for your future ability to get jobs and funding. This workshop will teach skills for refining what you want to say - and how to say it! Previous students have used these skills to land jobs at institutions such as NASA and Facebook!
Wednesday: Coffee and Cards with GPS
Nov. 20, 1 - 4 p.m., Allen Center 323
Come by for your afternoon pick-me-up - and perk up someone in your life who's been helpful to you on your grad school journey! We'll have coffee, donuts and postcards so you can enjoy a sweet treat and write a sweet message to those important people in your life you want to thank. The Grad Studies Office will mail the cards for you!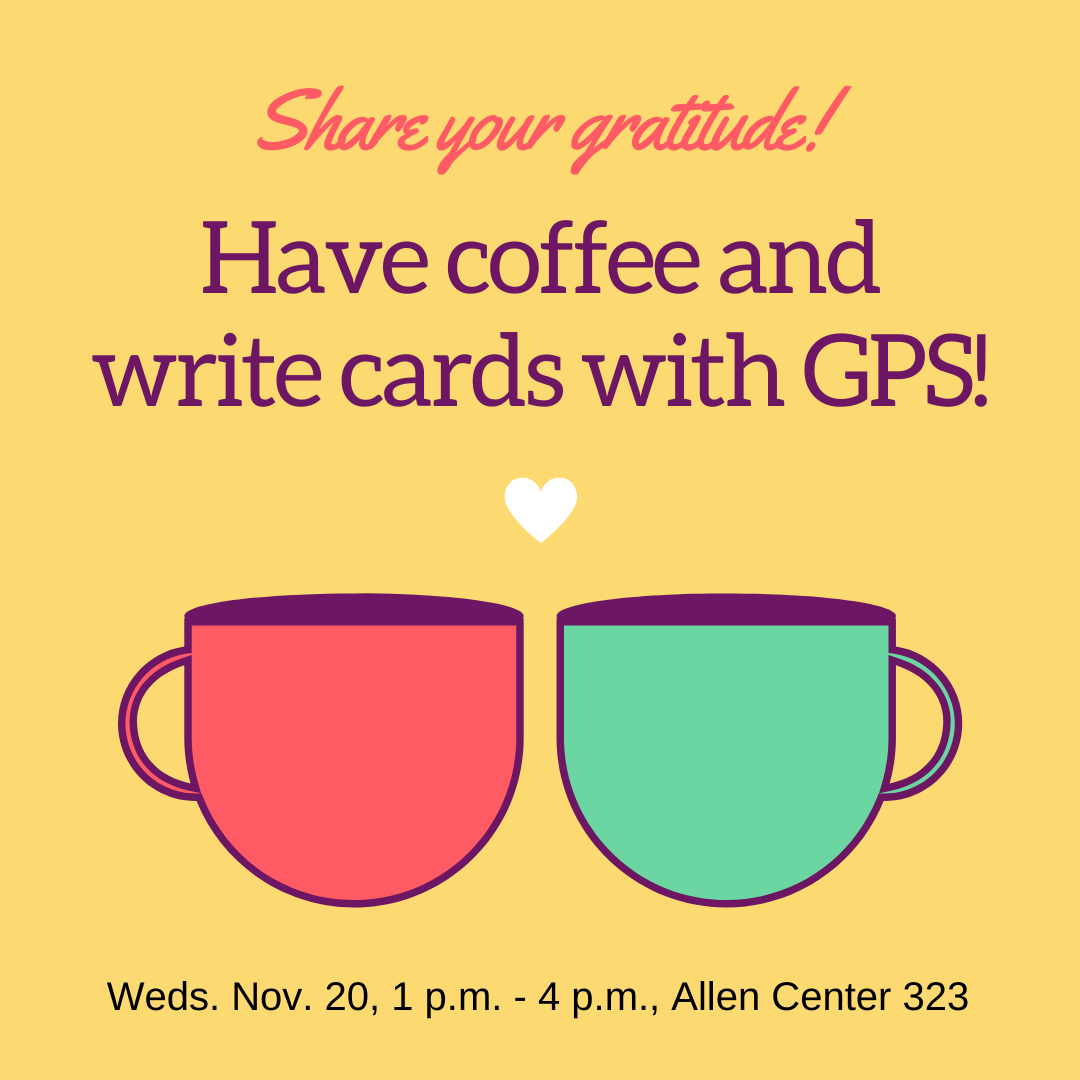 Student Support Specialist open office hours!
Nov. 21, Allen Center 323 A
Grad students, if you have a sensitive issue or concern to discuss, come see Pia Byrd, graduate student support specialist in the Grad Studies Office, during her open office hours. Can't make her office hours? Email her to set up a specific time to meet.
Thursday: GRADitude Fest & Cake Walk
Nov. 21, 4 - 6 p.m.
It's time for CAKE! Come to the Grad Commons for GRADitude Fest and cheer on our fellowship award winners as they claim their cakes. The Grad Studies Office will have pizza, beer and photo booth fun for all! Come help us ring out the week in style!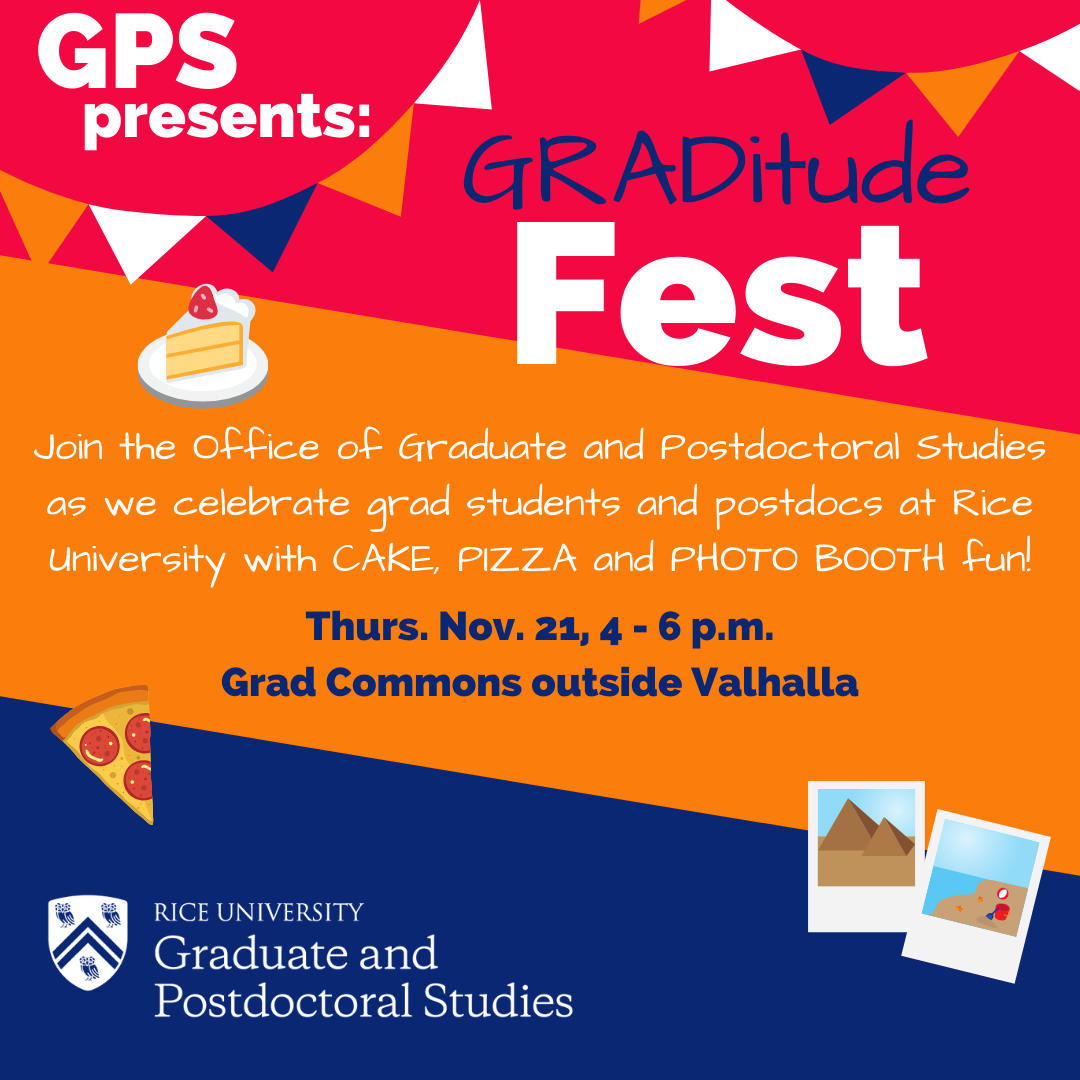 Grad Focus: Interview Prep Workshop
Friday, Nov. 22, 12 - 1 p.m., Huff House
The Center for Career Development is hosting an event for grad students getting ready to go on the job market! Are you a current graduate student and have been curious about how to articulate your skills for positions in academia or industry? Learn and practice how to prepare for and to best articulate your skills and experiences at an interview. Lunch provided. RSVP here.
FUN FACT FRIDAY!
Friday, Nov. 22, all day
It's FUN FACT FRIDAY and the last event of GRADitude Week 2019! Share with us a fun fact about you and/or your time at Rice using #GRADitude Week and tag @RiceGradSchool (Twitter Instagram and Facebook). Then head to the GPS Office in 323 Allen Center from 1-4 to claim a wordy reward! (Wordy rewards are limited, so tweet and tweet early!)