I. LACMA
Our first stop was the Los Angeles County Museum of Art (LACMA). It was not on our list of site visits, but it was a necessary stop for a collaborator. Not only did Gaby work for the "largest art museum in the West" with a vast network of local and national community resources, but they had multiple exhibits that touched directly on my dissertation topic and offered many important questions for our project. One exhibit was especially fascinating: Inventing Race: Casta Painting and Eighteenth-Century Mexico, organized by Ilona Katzew, curator and co-department Head of Latin American Art at the museum. My dissertation's first chapter analyzes New Spanish sumptuary laws deployed within casta paintings, so I was amazed to see some of the artwork I had been studying online and in books. The paintings were simultaneously breathtaking– looming over 4 ft tall and 3 ft wide with thick, gilded frames– and diabolical. Each one represents a colonial educating tool with heterosexual, hierarchical relationships between people of different racial castes: Españoles or Spaniards born in Spain (at the top of the hierarchy for white supremacist reasons), Criollos or Spaniards born in the Americas, Mestizos or descendants of Spaniards and Indigenous, Castizos, Mulattos, Zambos, and so on. Sets of paintings that "not only mirror but actively construct many notions of the period regarding colonial society"– especially that of race (Katzew, "Why an Albino?"). For our Señora Power project, this exhibit invites important questions about the constructed nature of race. The core of our work asks: how is Chicana political consciousness sparked? What does it look like? When, where, and how? Frequently, race/ism is that spark; it is that jolt, that awakening, that moment when injustice has a shape and history. Seeing the racial structures connected to and constructed within emerging Chicana consciousness remains pivotal to our current and future work.
II. Olvera Street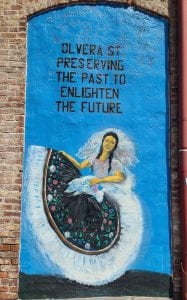 Leaving the museum into LA communities, we visited Olvera Street next.
Olvera Street is a historic marketplace in the heart of Downtown Los Angeles. A part of El Pueblo Historic Park, an entire plaza serves as a site of intensely racialized commerce. Mexican restaurants, fruit vendors, clothing, candy, goods, and bright, multicolored papeles picados mark the space in important ways. Mexican American identity intrinsically defines the plaza and its history. Despite its 1930 origins with a wealthy, Anglo socialite, Olvera Street represents an economic path in which Mexican Americans found a place in LA (Trausch, "History"). Selling cultural goods to preserve a space and a history. Yet if we are looking for Chicana political consciousness, the closer we look the farther it seems. The seemingly apolitical yet culturally dense nature of Olvera Street makes it an incredibly important piece of project. Though we weren't able to establish many community connections at the marketplace itself, we ventured across the street to Los Angeles Plaza de Artes y Culturas, and we were incredibly pleased with what we found.
III. LA Plaza de Artes y Culturas
LA Plaza is a museum, a cultural hub, and a community forum. We were lucky enough to see exhibits, such as L.A. Memo: Chicana/o Art From 1972-1989 and Patriotism in Conflict: Fighting for Country and Comunidad. Both exhibits were phenomenal, but the latter was especially helpful for our project. It included quotes, documentaries, and clothes from Mexican American communities, all centered around World War II, the Korean War, to the Vietnam War, and the rising Chicana/o Movement. After meeting and talking with Esperanza Sanchez, associate curator, who organized this exhibit, we were able to establish a connection to talk to Gloria Arellanos, renowned Brown Beret. Gloria Arellanos' activism and life's work sits at the core of señora power. This exhibit as much as it could to her story, displaying images of her and friends protesting, picketing, and cheering each other on. Yet there's much to be heard and learned from Arellanos, and with our new connection, we hope to create community with her, talking with her about the various modes that activism and community resourcing looked like during her time as a Brown Beret.
IV. Products In-Process
This trip helped us further develop 4 products that will be put back into the community as education and preservation tools. The first are oral interviews. We are in the process of receiving IRB approval to start contacting señoras of Mexican descent to speak to each site's history or context. These oral interviews will reveal 1. how these sites became so important to Mexican American history, 2. how their own political conscious emerged and grew, and 3. how the narratives speak to the overall trajectory of Chicana development in both Houston and LA. The second is a website. This website will host a map with each site, the relevant history, and profile on every señora we want to highlight per physical location. The oral interviews will be posted to the website, along with relevant archival data. The third is a podcast. Arguably, our most public-facing product– this podcast will hone in on each señora– interviewed and/or in the archive. We will explain who they were, what they did in their lifetime, and how their story is a little piece to the overarching puzzle that is Chicana political consciousness. Finally, our last product is a physical pamphlet. Our goal is always for this information to accessible to as many Mexican American communities as possible, so we have designs for a handheld document to share at our highlighted spots. But also, in other local spaces like washaterias and grocery stores. Our goal with these products are to give back as much of the history and stories we find to the same communities who our señoras helped.
All of Sonia's research blogs can be found here: https://soniadelhierro.blogs.rice.edu/expanding-horizons-fellow/forming-a-community-travel-to-los-angeles/