For the fourth year in a row, the school is ranked the No. 1 graduate entrepreneurship program in the United States for 2023 by the Princeton Review and Entrepreneur magazine. It's the seventh year in the top three and the 14th year in which it has ranked in the top 10 on this prestigious list.
Poets and Quants ranked Rice Business No. 5 in its online MBA rankings, up from No. 7 on last year's list. Like all courses at the school, the online MBA boasts dedicated, nationally recognized faculty who derive insights from their own peer-reviewed research to help students understand topics in accounting, finance, marketing, organizational behavior and strategy in the context of today's business landscape.
"We are so proud to be a part of the creation of new businesses and industries critical to future prosperity in Houston and Texas," said Rice Business Dean Peter Rodriguez. "Both our on-campus and online MBA recognition show how our faculty and staff strive to prepare Rice Business students for real-world applications and successful careers in ever-changing business dynamics."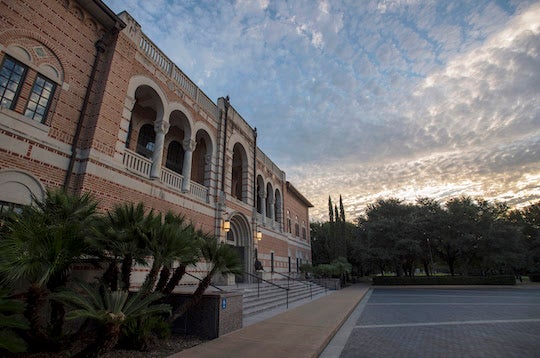 The Rice entrepreneurship ecosystem is robust, featuring a comprehensive suite of resources and support system for entrepreneurs, future investors and entrepreneurial minded students, faculty and alumni. The Liu Idea Lab for Innovation and Entrepreneurship (Lilie) provides courses and co-curricular entrepreneurship programs, while the Rice Alliance for Technology and Entrepreneurship (Rice Alliance) provides opportunities for community and global startups to experience the Rice ecosystem.
"Appearing in the number one spot for the fourth year running cements reputationally what our students know innately, that Rice's comprehensive suite of programming and education provides true practical value for founders and innovators," said Yael Hochberg, the head of Rice's Entrepreneurship Initiative.
Lilie's suite of experiential programs, action-learning courses, equity-free funding and mentorship are available to all Rice student entrepreneurs as they develop their ventures, which are then accelerated through Lilie's immersive programs like Launchpad and the Summer Venture Studio accelerator. Rice Alliance provides opportunities for aspiring entrepreneurs to launch their businesses, hone their pitching capabilities and build their mentor and investor networks through educational programs, accelerators, the Rice Business Plan Competition and venture capital conferences.
"Rice Business is one of less than a handful of business schools that can claim 14 years in a row among the top 10 and four years in a row as No. 1," said Brad Burke, managing director of Rice Alliance for Technology and Entrepreneurship. "Our rise in prominence mirrors the growth of our world-leading Rice Business Plan Competition, now in its 22nd year, which offered $2 million in prizes in 2022."