Viva Valhalla! Tucked away under the steps of Keck Hall lies one of Rice campus's hidden gems and a hub for graduate student life on campus. Founded in 1970, Valhalla is Rice's premiere and only graduate student bar, run by graduate students and staffed by members of the Rice community. Valhalla gets its name from the afterlife of Norse mythology, but more specifically from "Das Rheingold: The Entrance of the Gods into Valhalla" which was playing on the radio as the founders were renovating the space. The influence of Norse mythology is prominent in the bar, from the paintings on the walls, to various artifacts including a Viking helmet and Mjölnir (the hammer of Thor) strewn about the bar. You can find other oddities that have accumulated over the years as well, including a neon sign in the shape of Texas, an out-of-tune piano, and a full anteater skeleton.
The eclectic atmosphere is also representative of the variety of Rice community members that come through Valhalla and make the community what it is, including graduate students from all schools, alumni, and Rice staff. What makes Valhalla unique is that it is operated entirely by volunteer bartenders, many of whom are graduate students. Volunteer commitments are low, with bartenders only serving for one hour each week. Bartender "payment" is bartender-exclusive monthly events with free food, drinks, and fun. Some cool events for bartenders include an annual wine tour, beach trip, and day-long float on the Guadalupe River near San Antonio. If you want to take your Valhalla experience to the next level, you can also become one of the three Valhalla managers. Each year, a new group of graduate students are tasked with running the bar as it's managers. This is also a volunteer position, but it comes with a multitude of extra perks, including free drinks from Valhalla for life. As a bartender, manager, or a patron, you become part of the unique and welcoming community that is Valhalla, and if you come to Rice, I highly recommend you apply to become a bartender!
Since Valhalla is such a long-standing Rice institution, there's a few traditions that are important to know before you go:
NO TIES!: Valhalla has a tradition of banning ties. If you wear a tie into the bar, the bartenders are required to ring the alarm, alerting everyone to your transgression. You have the choice to remove the tie or have it cut off. However, there is a caveat to this rule…

Wear a tie to the bar after you defend your thesis: The tie cutting ceremony is an important rite of passage for all Rice graduate students that occurs after you have successfully defended your dissertation. Bring your friends and family, along with your tie, to Valhalla and have a ceremonial tie cutting. You can tape your tie on the pillars of the bar as a memorial to your time at Rice.

No liquor: Valhalla serves only a few specific kinds of alcohol including beer, wine, cider, and seltzer. If you want liquor and mixed drinks, you will have to go somewhere else. Now's also a good time to mention that if you don't drink alcohol, that's not a problem! You can still have a ton of fun and meet a lot of great people at Valhalla without alcohol. Not all bartenders and patrons drink, so Valhalla has a variety of sodas, sparkling waters (including Topo Chico, the official water of Texas), and juices available. Valhalla also serves really good food including sandwiches and Indian curries, both supplied by independent companies run by folks associated with Rice and Valhalla.
No credit cards: This is a cash only bar. Valhalla sticks to its roots; it started back when credit cards weren't even a thing. If you need cash, there are ATMs available in the Fondren Library and the RMC just across the street.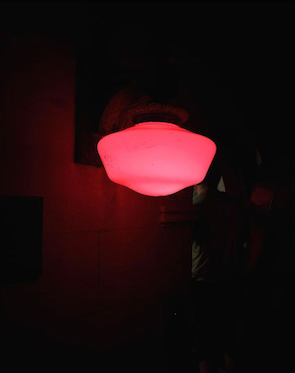 Before I share some of my favorite Valhalla memories, here's a little about me. I'm a fourth-year PhD student and I've been a bartender at Valhalla for 3+ years. I was also a manager for a year from 2019-2020. I've met many of my closest friends at Valhalla, and I've participated in many University events in and around the bar. My department often hosts a reception with seminar speakers at Valhalla, and I love getting the chance to crowd around a table with the visiting professor, department professors and my fellow students and talk about science. For much of the COVID pandemic, Valhalla was shut down, but bartenders kept the spirit of the bar alive with weekly Zoom hangouts, and we even got a drink delivery.
Just this past year, Valhalla celebrated its 50th anniversary, during which current graduate students and Valhalla alumni from across the years came to the bar to celebrate. There was BBQ, tie-dye, silly string fights, a dunk tank, a DJ, and a ton of fun. We even met an inaugural member of the bar, and a Valhalla manager from 1973. Alumni love to come back to Valhalla, and even when friends from the bar graduate and move on, they always come back to visit when they're in Houston. And just this past week when I was bartending, in a smaller by no less typical Valhalla encounter, a patron came in with an unusual math problem that they couldn't solve, and with some other patrons who were present, we all teamed up to try to figure it out. And we got it!
The Valhalla community is unlike any other, breaking you out of your shell and encouraging you to make friends and form connections with people across the University. You never know who you're going to meet at Valhalla, or the connections that are going to come from it.
Further Reading:
Getting Involved in Grad School
Grad School 101: Discover your research interests!
Coincidence leads grad student on musical journey to Rice
---
About the author: Daniel (Dan) Gorczynski (he/him) is a PhD student in the Ecology and Evolutionary Biology Program in the BioSciences Department. Dan attended Vanderbilt University and received his bachelor's degree in Biological Sciences. At Rice, he works in Dr. Lydia Beaudrot's lab studying patterns of diversity among large mammals living in tropical rainforests around the world. Dan is currently on the board of the Queer Graduate Students Association and Valhalla, Rice's Graduate Student Pub. If you have any questions or just want to talk, please feel free to reach out!